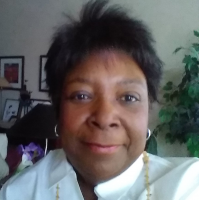 Pamela C Rice
Children's, Biographies & Memoirs
Profession

Advertising design & Visual Communications
Creating children's books is what Pamela C. Rice enjoys and since August 2015 she has released 12 books including "When the Brown Bird Flies", "The Painting Speaks", "Aaron's Dreams", and "Rufus Finds A Prize". Each book is warmly illustrated by Rice and offers written artistic expression of her childhood experiences and inspirations that children will find fun, imaginative and educational.

The title "The Painting Speaks", is enriched with notes from internationally celebrated artists such Synthia Saint James, Evita Tezeno, and Clyde D. Lewis. This artistic collaboration results in an amazing story of a young girl who realizes her appreciation for art. She visits a local art gallery with her class and discovers the marvels of fine arts "that speaks to her" in a story that both parents and children will surely adore.

One of her recent books "When The Brown Bird Flies" even recounts the early childhood experiences of a a dear friend, and decorated Tuskegee Airman pilot, Jack Lyle.

Rice grew up surrounded by creative art and design, and believes that she is a person born to write and illustrate for children. Both Pam's father and brother were in the field of design. Her father was a commercial artist, and her brother was in textile and artesian design. With over 30 years of independent and corporate experience in advertising, graphic design, and visual communications, Rice has earned high recognition and top accolades with over 30 design awards. She has made guest appearances as a lecturer at the Illinois Academy of Design and Merchandising and at Northeastern Illinois University. She has also taught at the University of Illinois-Chicago, in the Principal Scholar's Program.

Pam has illustrated for various authors such as Anna K. Morris, Emma Young, and Donna Beasley, to name a few. For many years Pam has developed her unique illustrative style, and is excited to create content that both parents and children can enjoy. She is currently working with a translator to bring more diversity and inclusion to her library of books.
Success is only meaningful and enjoyable if it feels like your own.
Michelle Obama